16 Sep 2020
ZZEUS TRAINING IS EXPANDING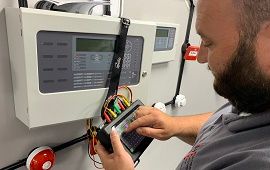 Lincoln based fire alarm technician training company ZZEUS is expanding to enable it to keep up with demand. Training is carried out in their purpose built dedicated fire system training rooms installed with fully working fire alarm panels and attached Apollo and Honeywell devices for your practical training.
This year has gone so well that there are currently only seven spaces available on the courses up till Christmas, with this in mind Building work starts this week on doubling the size of the training centre allowing for an extra instructor who will be joining later in the year.
ZZEUS Training is headed by Tom Brookes who runs a successful award winning fire protection company and is also the Chairman of the Fire and Security Association (FSA), the specialist division of the Electrical Contractors Association (ECA).
Tom has been training fire alarm engineers since 2002 both the theory, legislation and also on a practical level. He is a leading figure within the fire alarm industry, currently sitting on nine British Standard Institute committees, being involved in writing and updating BS5839-1 since 2006 and giving him a clear understanding of the standard rather than an interpretation.
August 2019 alongside awarding body EAL Tom created the Level 3 Award in the Requirements of Fire Detection and Fire Alarm Systems for Buildings BS 5839-1:2017 Tom created a Ofqual approved Level 3 Qualification to enable people who have worked in the fire system industry without qualification to gain a reconised qualification. This qualification went on to Win the Qualification of the year Award at the prestigious Federation of Awarding Bodies ( FAB) awards. Tom said " It was such an amazing night winning the qualification of the year, even Dame Judith Hackitt, phoned to congratulate us all at the awards on the night".
Along with the building expansion, we will be adding an NVQ level 3 to our centre and a little later a BS5839-6 exam.
Recognised by all the third party approval bodies and associations, including: BAFE, NSI, SSALB, BSI, ECS Cards, IFEDA, BFC, and supported by the Fire trades, including: Honeywell, Apollo Fire Detectors, Detector testers, FIKE, Morley, Notifier, Kentec, Advanced fire Systems, System Sensor to name a few.
www.zzeus.org.uk