02 Mar 2022
Take the smart approach to specifying smoke vents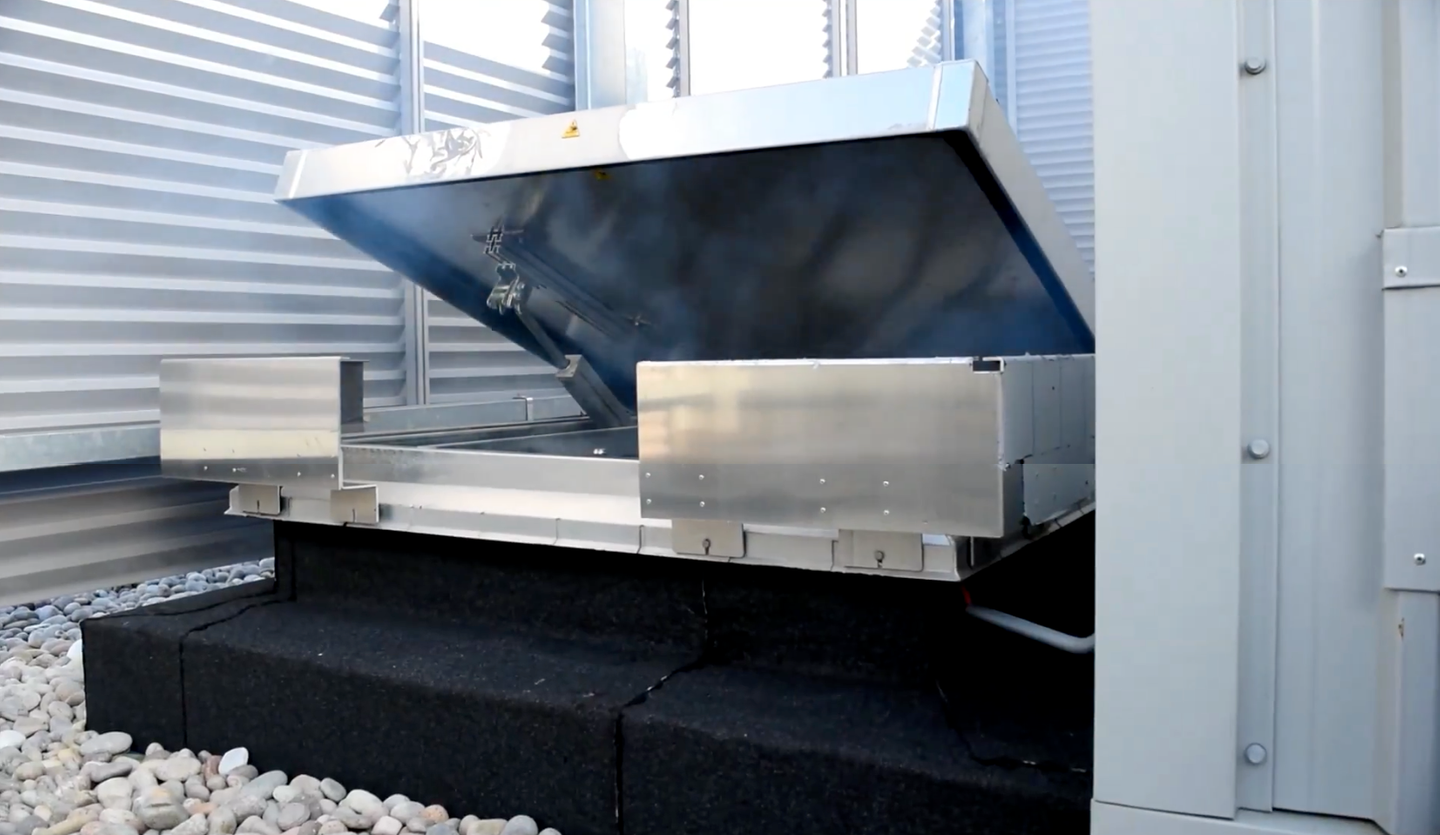 Here, Bilco UK, manufacturer of Roof Access Hatches, Smoke Vents and Roof Safety products, shares its top three considerations that professionals should focus on when specifying NSHEVs.
Natural Smoke and Heat Exhaust Ventilators (NSHEVs), more commonly known as smoke vents, provide essential ventilation in the event of a building fire. Installed in the roof, they open by sensors or remote control in response to exhaust smoke and noxious fumes.
Suitable for installation in a range of buildings, from educational spaces such as universities to commercial environments such as warehouses, the aim of a smoke vent is to make a dangerous situation safer for all individuals.
1.)Understanding the seriousness of smoke
While many may presume that the biggest danger of a fire are the flames, smoke inhalation can be far more dangerous and life threatening. Statistics from the UK Fire & Rescue Services stated that the most common cause of fire deaths and injury between 2018 and 2019* was 'being overcome by gas or smoke.'
As a fire develops inside a building, it burns the oxygen in the air, removing most of the available oxygen as part of 'incomplete combustion', which in turn produces toxic and potentially deadly carbon monoxide.
When a fire ignites in an enclosed space the smoke rising from the fire gets trapped by the ceiling. It then begins to spread, forming an expanding layer that leaks into any gaps in the floors or walls. This can lead to individuals becoming disorientated, with their vision becoming increasingly clouded, hindering safe evacuation.
The installation of smoke vents in appropriate locations around a building will protect occupants in the event of a fire by preventing the excessive build-up of smoke and noxious fumes. This subsequently reduces the risk of smoke inhalation, horizontal fire spread and secondary ignitions as the smoke is quickly exhausted, enabling fire-fighters to safely enter the building to tackle the blaze and building occupants to exit quickly.
2.)Knowing your regulations
As a specifier or contractor, ensuring the right product is used in the correct context is paramount to not only ensuring it is fit for purpose, but is also compliant with relevant regulations and provides the highest levels of safety.
When specifying a smoke vent for a roof, it should be compliant with the Construction Products Regulation 305/2011, CE-marked with a Declaration of Conformity. It should also be manufactured to meet the demands of Building Regulations, Approved Document B, BS9999 and BS EN12101-2.
Choosing a smoke vent that meets all of these legislations will help to not only achieve compliance, but ensure the operational reliability and performance of the smoke vent throughout its lifetime.
The control of the smoke vent should also be considered, whether this is in the form of a dedicated management system or a solution integrated into a wider networked fire alarm system.
3.)Customising your specification
While the functionality and quality of the smoke vent will be the primary consideration, aesthetics can also be an important factor. Here a 'one size fits all approach' shouldn't be applied, as specifiers and contractors have a wide range of elements to choose from to ensure the product is tailored to meet the project's unique needs. Customisation may include elements such as hardware, paint finishes, curb liners, manual or automatic control units, open-close switches and rain and wind sensors.
While a NSHEV plays a pivotal role in fire protection by successfully exhausting smoke, they can also be utilised for comfort ventilation, removing the requirement for additional roof penetration. The vents also adopt the role of a skylight, allowing natural light to filter through into the space below.
By installing the smoke vent with the addition of a fixed vertical safety ladder, its can provide an adequate means of escape from the roof and offer access to contractors for infrequent maintenance.
When specifying smoke vents, it's important to explore the individual requirements for each development and work closely with manufacturers at the specification stage to design a bespoke solution that is fit for purpose, whilst also ensuring compliance with all relevant legislations.
For further information on Bilco UK's complete range of roof access solutions, visit www.bilcouk.co.uk or call 01284 701696.