27 May 2021
Hyde Park property protected using FIREFLY™ ZEUS Lite™ Barrier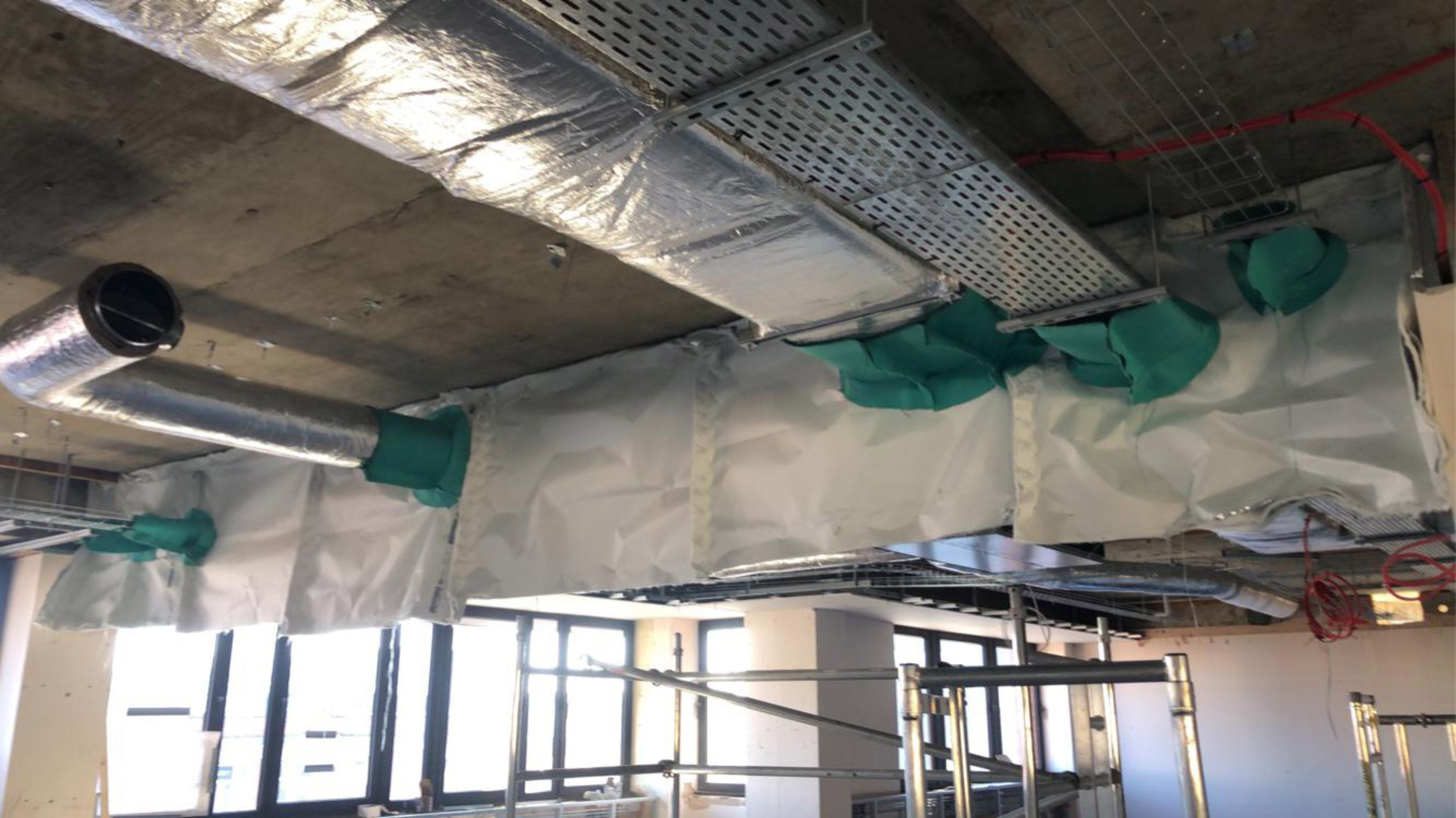 Northamptonshire based DC Fire Protection Ltd., a long-term customer of TBA FIREFLY™, has employed the manufacturer's ZEUS Lite™ system to create a 90:30 minutes' fire barrier within the first floor ceiling void of a commercial property in London's Hyde Park area.
The project was carried out on behalf of fit-out contractor, Coel Interiors, over an eight-day period early this year by one of DC Fire Protection's ltd. highly experienced two-man teams of installers. Working together they employed the installer friendly, flexible ZEUS Lite membrane to create two separate, 900mm deep fire barriers across the multiple building services, which are fixed to the structure's concrete soffit.
FIREFLY™ ZEUS Lite™ is ideally suited to this type of application, comprising a flexible woven fabric fire barrier that has been specifically developed for the vertical separation – and compartmentation – of extensive concealed spaces within buildings.
FIREFLY™ ZEUS Lite™ is amongst the range of products regularly employed by DC Fire Protection, the contractor has 30 years' experience in the installation of passive fire protection measures and offers clients a comprehensive survey plus design service, appropriate to a full spectrum of project types. It is BRE accredited and carries out work in full accordance with manufacturers' specifications to ensure all installations offer the required periods of protection.
By offering 90 minutes' integrity and 30 minutes insulation, FIREFLY™ ZEUS Lite™ 90:30 exceeds the minimum requirements regarding fire barriers under the Building Regulations' Approved Document B (Fire Safety). The specially treated glass fibre fabric is strong and resilient as well as flexible while, crucially, the system's certification covers the inclusion of service penetrations which many rival products do not.
Director of DC Fire Protection Ltd., Craig Tyrrell, commented: "Wherever possible we try and convert specifications on any job to TBA FIREFLY™ because we have such a good relationship with the manufacturer – and in the case of the Hyde Park project our client, Coel Interiors, tasked us with creating two 14.5 metres' long barriers within the first floor ceiling void, so I selected ZEUS Lite™ as the ideal product. During a week and a half on site, our two installers fitted the membrane between the concrete soffit and the suspended metal ceiling grid to comply with the general specification and exceeding the requirements of the Building Regulations."
The cooperation built up between the two companies over the past two decades includes TBA's technical sales staff assisting with site surveys and offering design guidance