30 Mar 2023
Life Safety Fire Risk Assessment - BAFE SP205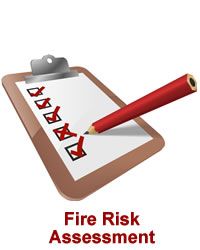 SSAIB's BAFE SP205 UKAS-accredited certification scheme enables anyone who's required by law to carry out a fire risk assessment of a premises - and who employs a specialist third-party company to provide this - to demonstrate that they've taken the necessary reasonable steps to comply with their legal obligations and requirements under fire safety legislation.
Besides those responsible for carrying out such an assessment, SSAIB's independent third-party certification service will also benefit fire risk assessment providers, who'll be able to use their SSAIB certification to attract end user customers. SSAIB certification provides benchmark recognition of a company's capability in providing high quality fire risk assessments, by showing that they have the required technical and quality management competency and that their assessors possess the relevant proficiency and knowledge.
Interest in fire risk assessment is growing steadily, driven by factors including the scope of the Regulatory Reform (Fire Safety) Order 2005 in England and Wales and the equivalent legislation in Scotland and Northern Ireland and the awful Grenfell tragedy in 2017. The 'Responsible Person' or 'Duty Holder' for a building must ensure a fire risk assessment is completed. To ensure the competence and reliability of a company commissioned to carry out fire risk assessment, British Approvals for Fire Equipment (BAFE) introduced its Life Safety Fire Risk Assessment SP205 scheme.
SSAIB is a third-party certification provider for the SP205 scheme for firms or individuals offering fire risk assessment services and achieving it will offer a significant marketing tool - as it will enable them to display the valuable SSAIB/UKAS certification mark (including the 'crown and tick' logo.)
Categories
Fire Detection
Fire Prevention
Testing and Approval Services