14 Apr 2023
GT Fire Door Management System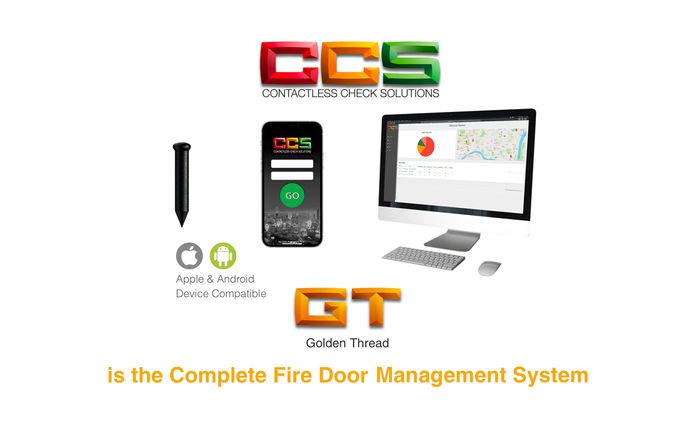 The CCS GT Pin, App and Dashboard is the ultimate solution for professionals in the fire door industry to efficiently and cost-effectively manage their fire door compliance. With this simple, easy to use system, teams can document the lifecycle of a fire door with ease. Data is securely stored on online servers, meeting the highest standards of Dame Judith Hackitt's 'Golden Thread of Information'. Streamline your fire door compliance with the CCS GT Pin, App and Dashboard today.
Our fire data pins provide an unparalleled level of accuracy and durability for the fire door industry. Installed directly into the hinged side of the door blade, these pins record the entire life cycle of the door without the need for any additional hardware. The scan-able pins are easy to install, either at point of manufacture or with a simple retrofit to existing stock, and are more robust and durable than a label, as they can not be peeled off or covered in paint. Moreover, the door must be opened for the pin to be scanned, eliminating the possibility of false reports being submitted. Our fire data pins offer a reliable, long-term solution for tracking and managing fire doors.
Our advanced fire door inspection system guarantees accuracy and accountability. Scanning pins to activate the inspection process ensures that each report is securely assigned to the right address. Moreover, with our 'No Cheating' feature, pins cannot be scanned through the door, so access has to be physically gained to start the inspection. In the event of no access, the "no access" button can be used to document this and emails sent automatically after three failed attempts.
Our cutting-edge fire door reporting system offers an up-to-date, easy to interpret dashboard that provides an instantaneous overview of the status of your fire doors. You'll be able to quickly see which doors have passed, failed or are yet to be activated, while the pie chart displays the data in a clear, visual format. When you click through, you can access more detailed information, allowing you to narrow down your search by building or floor. Plus, you can use the street level mapping feature for a comprehensive visual representation of your fire door stock.
#firedoorcompliance #streamline #efficiency #CCSGT #firedoor #firedoormanagement
Categories
Fire Prevention
Passive Fire Prevention
Software & IT