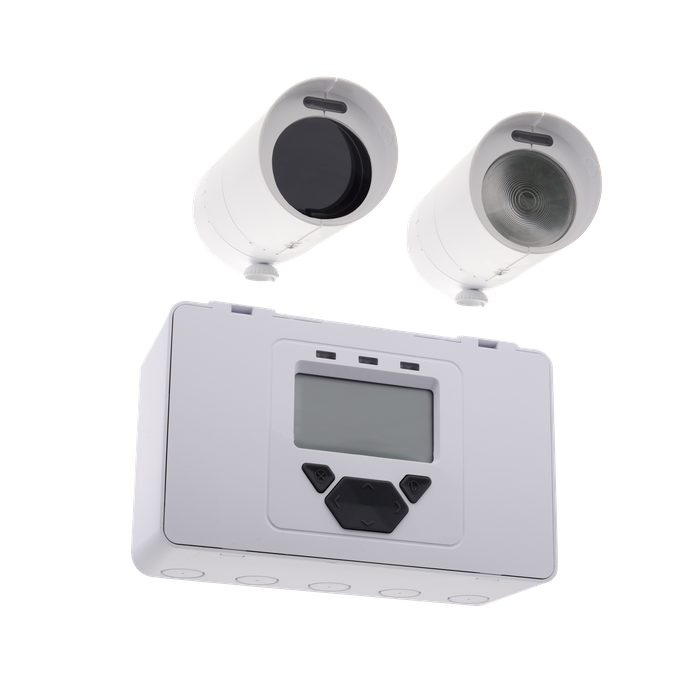 Key Benefits
Allows for 2 Detectors per System Controller
Range 5 to 120 metres, configurable per set of Detectors
Integral Laser Alignment in Receiver
2-wire Interface between Controller and Receiver
Separate Fire and Fault Relays per Detector
Low Level Controller with LCD display
Programmable Sensitivity and Fire/Fault delay
Automatic Gain Control (AGC) for drift compensation
First Fix concept for Transmitter, Receiver and Controller
Multiple cable gland knockouts for ease of wiring
Transmitter can be powered from Controller
Patented Light Cancellation Technology (LCT) cancels unwanted light, including sunlight, sodium lamps and fluorescent lighting.
Applications
The Fireray® 3000 is ideal for applications where line of sight for the IR (infra-red) detection path is narrow and where the building structure uses reflective surfaces. It has also been designed to be aesthetically pleasing and thus can equally suit modern architectural buildings as well as heritage sites, particularly where ornate ceilings exist.
The Fireray® 3000 optical beam smoke detectors, together with a battery backed power supply, can be connected to a zone of a conventional fire alarm control panel or interfaced to an analogue-addressable system via an addressable input module.
The Fireray® 3000 has been designed so that it can be installed by one operator with its laser assisted alignment methods combined with easy to use alignment LED's offering a visual feedback. Integrated laser alignment aid can be activated at the controller or at the Receiver head.
Categories
Extinguishers
Fire Detection
Fire Prevention
Training Provider