14 Feb 2024
FIREFLY PENOWRAP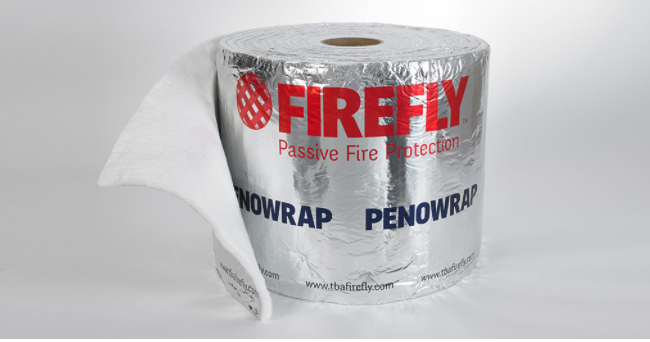 DESCRIPTION
FIREFLY™ PENOWRAP is a lightweight, flexible fire wrap, used as a component within our fire barrier systems. PENOWRAP provides 60 minutes Integrity and 60 minutes Insulation when used to wrap exposed sections of timber and steel. Tested to BS 476 Parts 20 & 22.
USE AREAS
FIREFLY™ PENOWRAP is used as a component with other FIREFLY™ flexible fire barrier systems, suitable for wrapping timber and steel structure/substrate up to 300mm below the barrier for additional fire protection.
CONSTRUCTION
Manufactured using a layer of nonwoven silica with aluminium foil to the outward face.
KEY BENEFITS
60 minutes Integrity, 60 minutes Insulation as part of a FIREFLY™ barrier system
Tested to BS476 Parts 20 & 22
Enhanced protection to further improve performance and resist fire pressure at the head of a structure
Wraps and protects exposed, more vulnerable areas when used in conjunction with a FIREFLY™ barrier system
Lightweight, flexible, easy to cut and install
Utilises standard fixings, angles and high temperature adhesives approved for all FIREFLY™ barriers