17 Apr 2023
Communal Fire Doorsets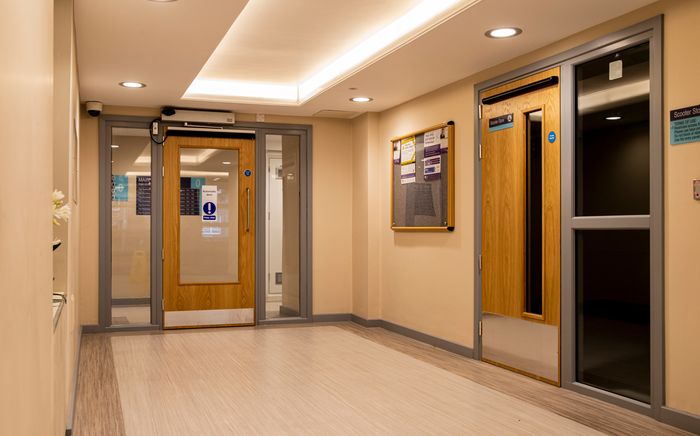 Communal fire doorsets are fire doors that protect the corridors and landings that service flats, these fire doors compartmentalise communal areas allowing residents to escape the building safely in the event of a fire. Communal fire doors also allow the fire service to safely access the building through stairwells to make assessment and tackle fires safely. West Port can provide communal fire doorsets in FD30 and FD60 in a wide range of styles that include 50,000+ colours, ironmongery options & glazing options to suit your project.
Primary Test Evidence
As a provider of passive fire solutions Fire door safety is West Port's number one priority. West Port has a policy to provide fire doorsets where primary test evidence is available, our impressive portfolio of Primary Test Evidence is a direct result. Consequently, our fire-rated products are some of the most reliable and robust in the timber fire doorset industry.
We are a BlueSky certified manufacturer, our products hold dual certification for fire-resistance as well as enhanced security to PAS 24 the official police security initiative standard set by Secured By Design. These 'stamps of approval' confirm that a UKAS accredited 3rd party certification body has monitored the product under certain test conditions in a UKAS accredited test house.
At West Port we believe the more primary test evidence we as a manufacturer can call upon, the wider the scope of results, and the greater the suitability of any individual solution. This extensive pool of test data allows us to work with specifiers to offer custom fire doorset designs and configurations to meet almost any requirement. West Port fire doorsets can be supplied with smoke seals as an optional extra helping to reduce the spread of smoke.
Large Volumes
At our 175,000 sq ft production facility we can cater for orders of single bespoke fire doorsets right through to manufacturing large volumes for whole projects. Our use of the latest CNC technology accurately machines our door blades to very tight tolerances. This quickly and efficiently allows our team to process door blades ready for glazing, finishing, fitting of ironmongery and hanging within its door frame. Our fire doorsets are complete factory fitted units ready to be installed onsite with no finishing required.
At this point every West Port Fire Doorset is fitted with a CCS Fire Door Management System RFID Pin fitted as standard, the manufacturing data is then uploaded to the CCS cloud ready to be used as the start of the 'Golden Thread of information'.
Contact our team of specialists to learn more about how we can help develop/design your bespoke doorset specification…
#timberfiredoorets #firedoors #firedoorsafety #firerateddoors #firesafety #firedoorsupplier #FSE2023
Categories
Fire Prevention
Passive Fire Prevention