01 Jan 2023
600 Series Conventional Detectors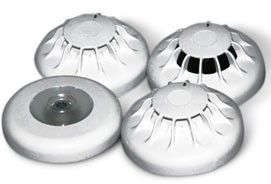 The 600 Series conventional detectors are the result of the evolution of conventional detector design but with extra unique style features enabling improved operation, installation and easy servicing.
---
Included within the 600 Series range is the new conventional enhanced carbon monoxide detector (601CH). The incorporation of a reliable electrochemical CO detection cell and high specification low thermal mass thermistor for accurate temperature detection has enabled the introduction of an enhanced CO detector suitable for fast, reliable fire detection on both slow and fast developing fires.
General Features:
EN54 Approved from LPCB.

Low operational voltage: 10.5 Vdc to 33 Vdc.

Aesthetically discreet.

Superior performance and reliability.

Designed for rapid installation.

Integrated alarm LED.

Remote LED connection.

Wiring polarity independent.

Compatible with standard mounting base and with relay base.
To learn more about the FireClass' line of 500 Series Conventional Detectors, speak to one of our FireClass team at The Fire Safety Event 2023, or visit our website.
www.fireclass.co.uk
Categories
Fire Detection
PA/VA Systems
Smart Buildings