Whilst we wait for our live event we are pleased to announce a series of webinars showcasing some of the content from our Fire Safety Event Seminar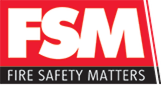 Agendas and other key topics from the world of fire prevention and protection.
Supported by our Lead Media Partner Fire Safety Matters magazine we have sessions provided from key associations and experts from across the industry.
There will be plenty of time to ask questions at the end of each session. Please also submit your questions during the registration process and we will do our best to answer these during the sessions.
Sign up free and watch live or on demand later.